Veteran trainer Barclay Tagg has decided that Tiz the Law will not run in the Preakness Stakes, according to a report by David Grening of Daily Racing Form.
"Since we have no shot at winning the Triple Crown, our big goal with this colt is of course the Breeders' Cup," Tagg told the DRF.
"We really want to go into the Breeders' Cup with a fresh, happy horse."
The colt's connections are making a wise choice. The winner of the Florida Derby, Belmont, Travers and runnerup to Authentic in the Kentucky Derby had more to lose than gain in Baltimore.
As was pointed out here in an On The Line column, September 8, a loss to Authentic in Baltimore would have cost the year-long divisional leader the three-year-old championship.
And as stated here this week, 'Tiz' has not had a timed workout since the Derby.
Tiz the Law could have regained his stature by winning the Classic, but the Breeders' Cup would have been his fourth Grade 1 appearance from late July through early November, three races at a mile and a quarter and one at 1-3/16s miles.
This is 2020, not 1970.
However, should an eight-week fresh Tiz the Law win the Classic, defeating the best horses of all ages available, he would be a very heavy favorite to win the Horse of the Year title and, of course, the divisional crown that goes with it.
The Breeders' Cup Classic is November 7 at Keeneland Race Course.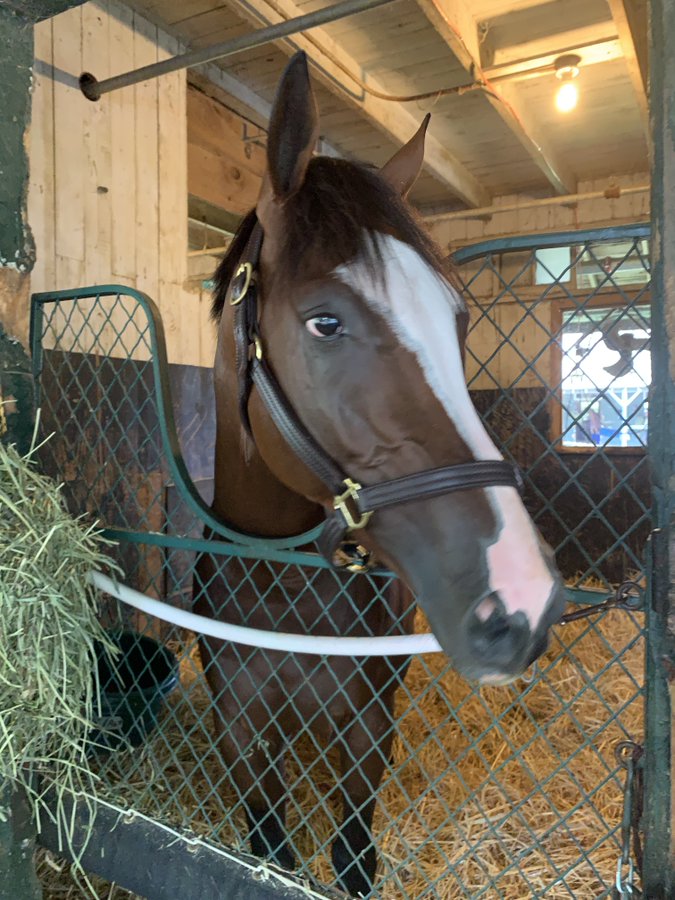 Pimlico Starting Gate on its Way to Filling Up
With Tiz the Law watching the Preakness from his stall, Max Player is headed to 2020's third jewel in the Triple Crown. His entering currently him the only horse to compete in all three legs — plus the Travers.
Max Player finished third in the Belmont Stakes, third in the Travers and most recently fifth in the Sept. 5 Kentucky Derby.
Hall of Fame trainer Steve Asmussen ran Max Player for the first time in the Derby, replacing New York-based Linda Rice.
"I'm very excited because I haven't been in the Preakness yet," said owner George Hall. "Steve and I stay in close contact… and we discuss things. We both agreed we'd take a lot of things into consideration…
"Steve watched him closely and he was in great shape. He's galloped well. He's breezed well. We felt the horse was at the peak of his game and is ready to run."
additional reporting was provided by Pimlico press staff